Jacksonville, Florida, is a massive city with lots of things to do, including tourist attractions, sites of natural beauty, and entertainment.
You can explore its rich past if you are a history buff. Or, if you prefer something more exciting, you can try go karting in Jacksonville.
This is a city with quite a few different options for go karting. Different venues will have different tracks, karts, forms of entertainment, and food options, so be sure to do your research before picking an establishment.
To help you, we have found four of the best places for go karting in Jacksonville. This guide will help you to pick which karting venue is right for you.
The amazing Autobahn Speedway is suitable for both serious kart enthusiasts and beginners. It has both adult and junior karting, so it is suitable for families.
However, adult karting is more targeted at serious go karting fans, so you should consider visiting this venue if you have a passion for karting.
With locations across the country, the Jacksonville branch is one of the biggest and best.
State: Florida
City: Jacksonville
Type: Indoor
Tracks: 2
Karts: Single
Karts Top Speed: 50mph
Requirements: 56" for adults/ 48" for juniors
Onsite Food & Beverages: Yes
Entertainment: Yes
Party & Group Booking: Yes
Merch Shop: No
Price Range: $20.99 – $104.99
Location: Autobahn Indoor Speedway 6601 Executive Park Ct N, Jacksonville, FL 32216
Opening Hours:
Monday – Thursday 11am – 10pm
Friday 11am – 12am
Saturday 10am – 12am
Sunday 10am – 10pm
Track: Autobahn Jacksonville has 2 tracks. The first is named Monaco and it boasts lots of tight twists and turns that will challenge your driving skills.
Meanwhile, the second track, dubbed Le Mans, may seem more simplistic, but it is nonetheless exciting to drive through.
Karts: While some tracks offer double karts, this one does not. Instead, all of their karts are single-seated.
On the other hand, they do provide different tracks and karts for adults and juniors, so kids can still get involved. These European karts have electric motors that are 20 horsepower.
Speed: For adult karts, the maximum speed is 50mph. This allows you to feel the rush of the karts. For junior racers, the karts have a speed limit of 25mph. This is still very fast, so kids are sure to have fun.
Food And Beverages: Unlike other Autobahn locations, the Jacksonville venue has an on-site restaurant. If you are having a party, feel free to bring your own birthday cake to the building.
Entertainment: If you want to get involved with any activities, you can also give ax throwing a try. Plus, there is an arcade at the Jacksonville branch.
Since not all Autobahn facilities offer these forms of entertainment, it is excellent that this one provides them. It makes it ideal for a day out or party.
Booking: You can either receive a place online or walk in on the day. Just bear in mind that walk-in guests might not be able to drive at busy times.
The Autobahn website also allows you to book parties and corporate events.
Restrictions: To participate in the adult go karting track, you must be at least 56" tall. Furthermore, participants will also need to be over the age of 13.
Though this is the age limit, racers under 18 years must be joined by a parent or guardian who can sign a waiver.
This is a great option, as it means that kids can still ride go karts. Closed-toe shoes are also required, a safety requirement in the majority of venues.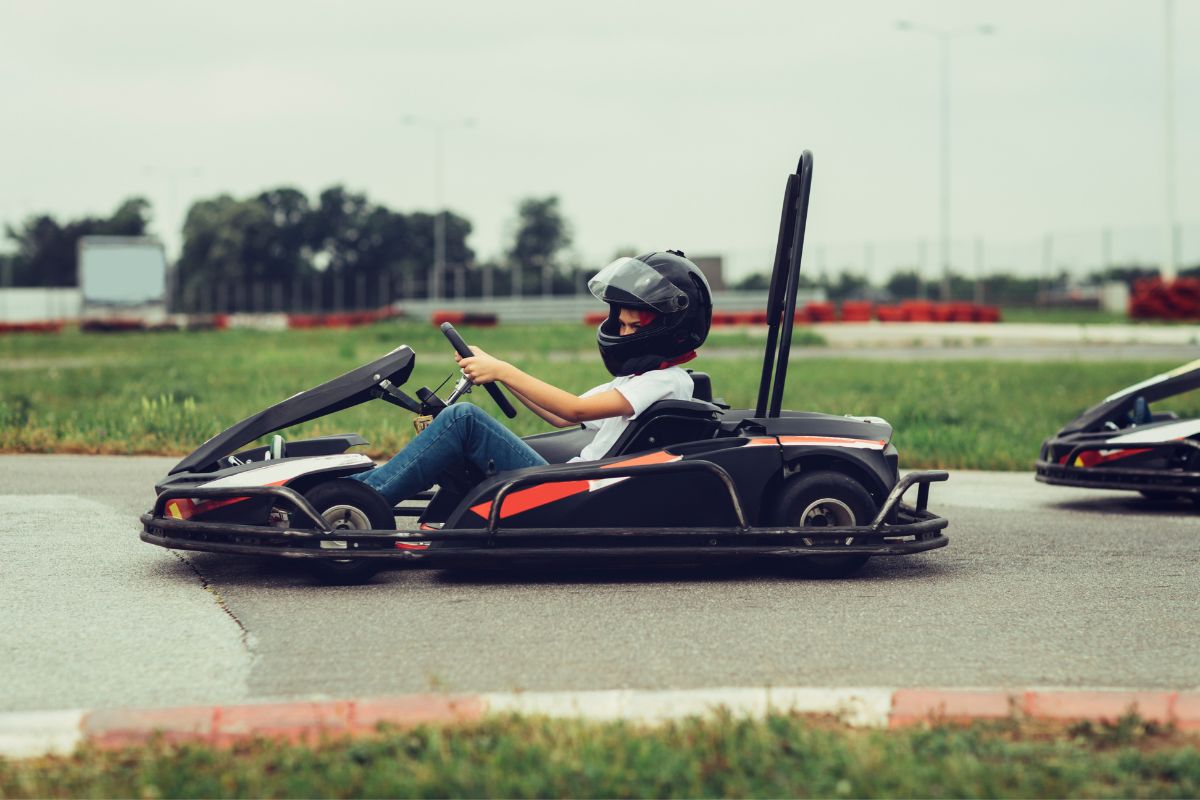 Up next, Open Air is an all-ages adventure park that is perfect for kids and families. There is a whole host of activities to get involved with, so you should consider this venue for your next party or family day trip.
This karting experience is more designed for children, so you might not find it suitable if you are a serious go karting enthusiast.
State: Florida
City: Jacksonville
Type: Indoor
Track: 1
Karts: Electric: Both single and doubles
Karts Top Speed: 40mph
Requirements: Various
Onsite Food & Beverages: Yes
Entertainment: Yes
Party & Group Booking: Yes
Merch Shop: No
Price Range: $9.99 – $39.49
Location: 9950 Southside Boulevard, Jacksonville, FL 32256
Opening Hours:
Monday – Thursday 10am – 9pm
Friday 10am – 10pm
Saturday 10am – 11pm
Sunday 11am – 8pm
Track: With raised sections and tons of turns, the track at Open Air is brilliant. It uses vibrant colors to add to the excitement.
Karts: The karts are designed to be colorful, thus appealing to children. You can use either a single or double kart.
These double karts allow parents to drive alongside their children, thus allowing them to feel the rush of driving whilst also keeping kids safe.
As electric karts, they are quieter and more efficient than other models.
Speed: The karts are able to reach impressive speeds, allowing you to feel the adrenaline of go karting. Yet, these speeds are also safe for children.
Food And Beverages: The Urban Air Cafe is open to providing whatever food and drinks you need after working up an appetite. This includes mouth-watering pizzas, which kids are guaranteed to love.
In terms of drinks, this cafe stocks different sports drinks and soda, which will perfectly refresh you after participating in the venue's various activities. The cafe also has sweet options, such as ice cream.
Entertainment: As an adventure park, Open Air has a diverse selection of amazing activities, such as a rope course, battle beams, virtual reality, a warrior course, and the tube playground.
This wide selection means that there is an activity here for every child.
Booking: The Open Air website allows you to book group events and parties. This establishment is renowned for its brilliant birthday parties.
They also have team-building exercises, so if you want to consolidate the bonds between colleagues, this is an outstanding option.
Restrictions: Parents must sign permission waivers via the website before their child can participate in any activities at the Open Air Adventure Park.
Because these activities are designed for children, this venue has much lower requirements than other tracks.
However, you should still research the restrictions before committing to it. For instance, to get involved in the rope course, children must be over 48".
You must also wear Open Air socks, which can conveniently be bought online or in person.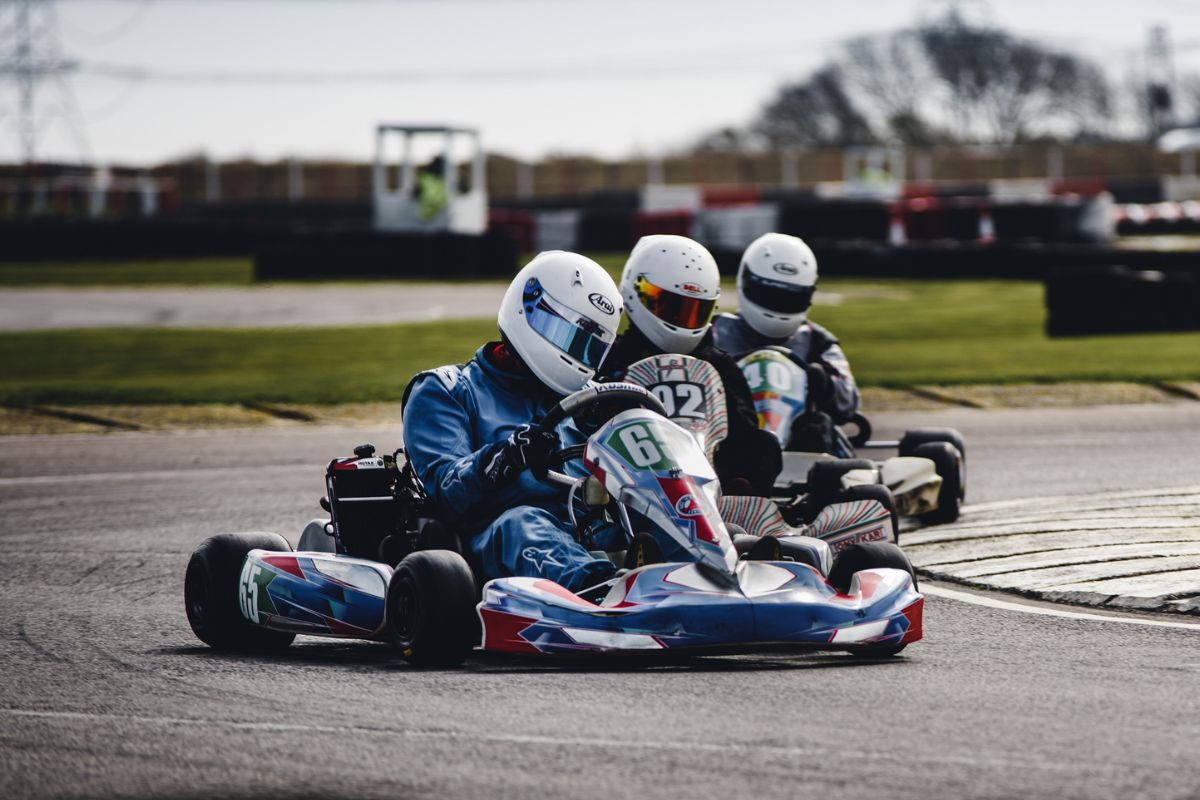 This beachside resort is a hub of fun activities, including go karting. As a result, this may not be optimal for serious go karters. Instead, it is better suited to children and people who are merely looking for a fun experience.
If you want to try out some other family activities, Adventure Landing in Jacksonville offers a whole host of options such as alligator feeding. To us, this is the perfect holiday destination, especially if you have young kids.
State: Florida
City: Jacksonville
Type: Outdoor
Track: 1
Karts: Various
Karts Top Speed: 50mph
Requirements: 56" for drivers/ 36" for passengers
Onsite Food & Beverages: Yes
Entertainment: Yes
Party & Group Booking: Yes
Merch Shop: Yes
Price Range: $10.99 for single, $13.99 for double karts
Location: 1944 Beach Blvd, Jacksonville Beach, FL 32250
Opening Hours:
Monday – Thursday 12pm – 9pm
Friday 12pm – 10pm
Saturday 11am – 10pm
Sunday 11am – 9pm
Track: The exhilarating outdoor track is loads of fun. Just remember to check weather conditions before visiting, as access to the track may not be permitted during rainy weather conditions.
Karts: These karts can either be single or double. Single models are suitable only for an adult driver.
Meanwhile, the double karts feature space for a passenger. This is a brilliant bonding exercise for parents and children.
Speed: Quick and easy to use, these karts are perfect. You'll be able to reach some high speeds.
The single karts are faster than the double versions, so you might want to go for a single kart if you have a need for speed.
Food And Beverages: If you are having a party at the Adventure Landing Park in Jacksonville, you can request a buffet. This has a wide selection of delicious foods, including burgers, salad, pizza, hotdogs, chips, and chicken breasts.
There are lots of different buffet options, so be sure to pick the one that works best for you.
Entertainment: There are lots of beach-themed activities at this venue. This includes alligator feeding, batting cages, miniature golf, laser tag, and an arcade. Perhaps the largest attraction other than the go karting is the wonderful waterpark.
Merch Shop: Adventure landing has an awesome gift shop. You can purchase a range of cool products, such as towels, sunglasses, t-shirts, and caps.
Kids will adore this merchandise and they make for brilliant holiday souvenirs. Via the online store, you can also buy various packages.
Booking: The website enables you to book birthday parties for kids and teenagers. In addition, you can buy membership packages through this site.
These will allow you to pay for attractions. This is a great way to partake in multiple activities, not just go karting.
Restrictions: As a safety precaution, riders must wear suitable footwear. Namely, closed toe shoes are advised. Adult drivers must be over the height of 56" and possess a valid driver's license.
Luckily, kids can get involved thanks to double karts. These karts can be driven by an adult and feature a passenger. The passenger must exceed the age of 3 years and be at least 36" tall.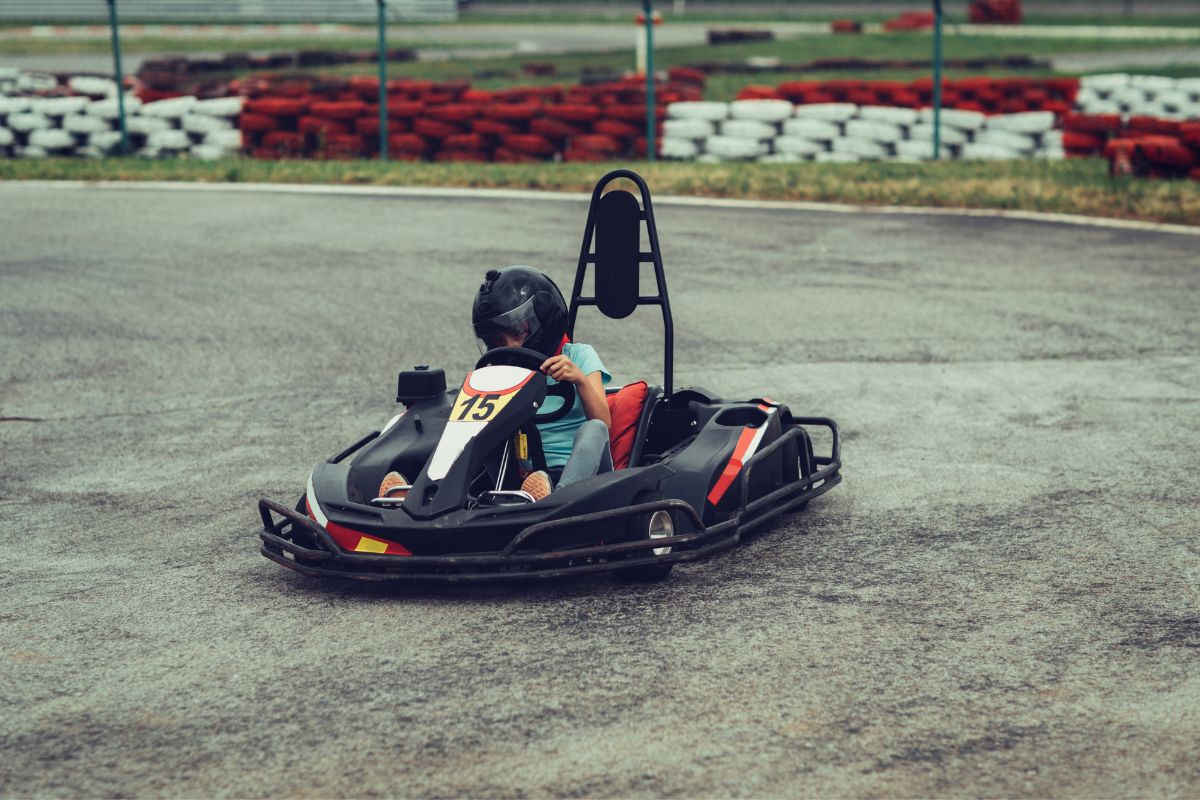 Last but not least, the North Florida Kart Club is made for fans of karting. It is designed for members, most of whom are serious go karting fanatics.
As a result, this may not be the place for you if you are looking for a family day out that is suitable for kids.
State: Florida
City: Jacksonville
Type: Outdoor
Track: 1
Karts: Various
Karts Top Speed: Various
Requirements: Various
Onsite Food & Beverages: No
Entertainment: No
Party & Group Booking: No
Merch Shop: No
Price Range: $20 for associate membership – $50 for full membership
Location: 10244 103rd St, Jacksonville, FL 32210
Opening Hours:
Monday – Thursday 9am – 8pm
Friday 9am – 10pm
Saturday – Sunday 9am – 11pm
Track: This course has an impressive track that is 0.5-miles long. Consequently, you can have lengthy drives and get lots of experience using a go kart.
Karts: As arguably the leading racecourse in Florida, this club has an impressive array of karts. This allows a variety of different people to participate in go karting, no matter their height or experience level.
Speed: The lengthy track allows drivers to reach impressive speeds. The more advanced karts can achieve much higher speeds.
Despite this, the karts aimed at juniors are still decently fast, so you can still get a rush of excitement even if you are unable to use the advanced models.
Booking: This course is not designed for parties and events, so you won't be able to book them here. Instead, it is designed to accommodate serious go karters.
To get involved, you will have to pay attention to the event schedule. This schedule informs you of the times of various go kart racing events.
Restrictions: The North Florida Kart Club has different classes, designed for different levels of experience and maturity.
As a result, each of these classes has a different age range. For example, the lowest class, called the 2-Cycle Kid Kart, is made for ages 5 and 8.
To use these karts, drivers must be at least 150lbs. Meanwhile, one of the higher classes, known as the Shifter, is only available to people 15 years old and over.
Final Thoughts
It can be hard to pick a go karting venue due to how different they all are. Different venues provide different services. For example, they provide alternative forms of entertainment.
Moreover, the food and beverages offered will vary considerably between venues. With any luck, this helpful guide will have enabled you to locate the ideal place for go karting in Jacksonville.
If you enjoyed this article, you might enjoy our post on 'The 4 Best Places For Go Karting In Burbank'.