There are many benefits to an island lifestyle, yet if you need to satisfy a need for speed on the track then you should know where the best go-karting can be found in and around Galveston.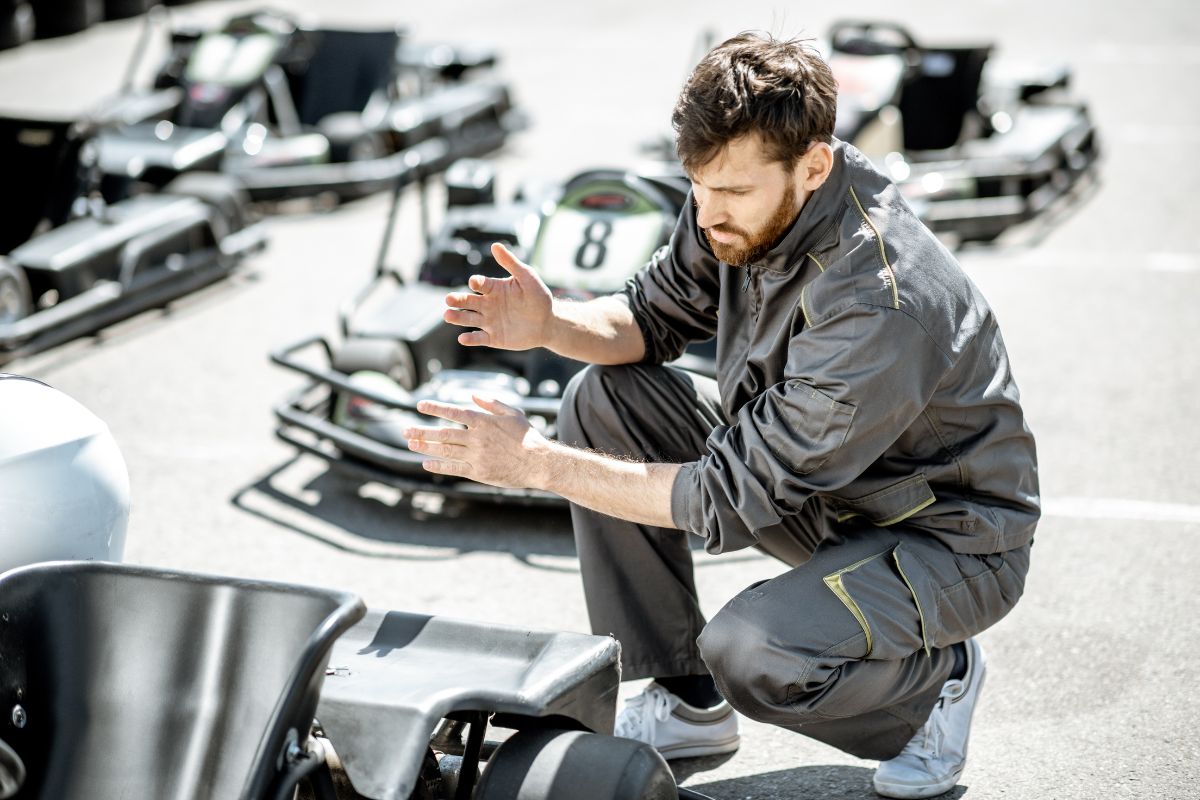 The coastal resort city has several tracks available nearby for some wholesome fun, birthdays, networking, or simply just zooming around.
Alongside go-kart tracks, other forms of entertainment should be available to suit family and friends such as arcade games and laser tag.
Whether you want a memorable venue for a birthday party, or simply want to get away from the beach for the afternoon, try some go-karting in and around Galveston.
At Bay Area Raceway, the focus is on fun in an entertainment center that is ideal for any celebration.
The family-friendly environment includes the outdoor go-kart track, a laser tag arena, and three party rooms.
If you have a birthday coming up or need an idea for a company team-building event then this is the place.
State: Texas
City: Dickinson
Type: Outdoor
Track: Single track with eight turns
Karts: Electric and gas karts
Karts Top Speed: 45 MPH
Requirements: 55" for standard go-karts.
Onsite Food & Beverages: No
Entertainment: No
Party & Group Booking: Yes
Merch Shop: No
Price Range: $7 for a five-minute ride on a regular go-kart up to $49 for an all-day arm band with unlimited go-kart, super kart, and two-seater kart rides with unlimited laser tag and arcade play (excluding redemption games).
Address: 3825 Gulf Freeway, Dickinson, TX 77539
Opening Hours: Open seven days a week. From noon to 10pm on Monday to Thursday and from noon to midnight on Friday.
On Saturday, the entertainment center is open from 11am to midnight and from 11am to 10pm on Sunday.
Track: The revamped track is one of the largest in the state. It begins with a long stretch for anyone with the need for a quick start but a few tight corners to pay attention to as well.
Karts: With four types of go-karts on offer you really are spoilt for choice.
Both the standard and two-seater go-karts come with a 9-horsepower engine with a silent muffler. The two-seater go-karts are ideal for kids when driven by an adult.
The super karts are a step-up for a single rider and are applicable to drivers aged 16 years and older.
Then there are the all-new pro-karts known as The Maverick, a high-speed gas go-kart with a European style that is quick and durable. So quick that it requires a valid driver's license.
Food & Beverages: For your own party package, you are allowed to bring your own food and drink though alcohol is not permitted.
Entertainment: In the family entertainment center, alongside the go-kart track you can find an arcade that is built to entertain the entire family.
From Halo to Pac-Man via some other classic games, you could play all-day or for however long you like.
If that is not enough, you could sample a zombie invasion in a 4,000 square feet, two-story laser tag arena. Pool tables are also available.
Party or Group Bookings: Bay Area Raceway has three party packages and for each one, you can bring your own food, drink, and decorations, though alcohol is not permitted.
Their Speed Package is available seven days a week and offers two regular go-kart rides, a laser tag game, and a $5 game card.
The Party Room would be available for 90 minutes and at least ten party tickets are required. There is a minimum of ten party tickets required at $19 each.
The Xtreme Party is available from Monday through Friday, though there can be expectations for the weekend.
The package includes two hours of unlimited go-karts and laser tag and game cards with unlimited arcade play (excluding Redemption Games).
For this package, the Party Room is available for two hours. The total cost is $329 for 20 admissions, $5 for each additional person with a $50 deposit required at the point of booking.
The Ultimate Party is available to book seven days a week yet only from 9am to 11am so make sure that your guests are up bright and early.
The package includes unlimited go-kart rides with five regular go-karts and one two-seater.
There is unlimited laser tag and all video games, pool tables, pinball, and air hockey are all on Freeplay, though redemption games are excluded.
Along with all those features, a two-hour private party means full use of all the party rooms.
A $50 deposit is required at booking and 20 admissions cost $399 with $5 for each additional person.
Booking: You can contact them via their website, over the phone, or in person.
Age & Height Restrictions: There is a minimum height requirement of 55 inches for standard go-karts.
In a dual seater go-kart, the driver must be 16 years or older with the passenger being 36 inches or taller to ride with them.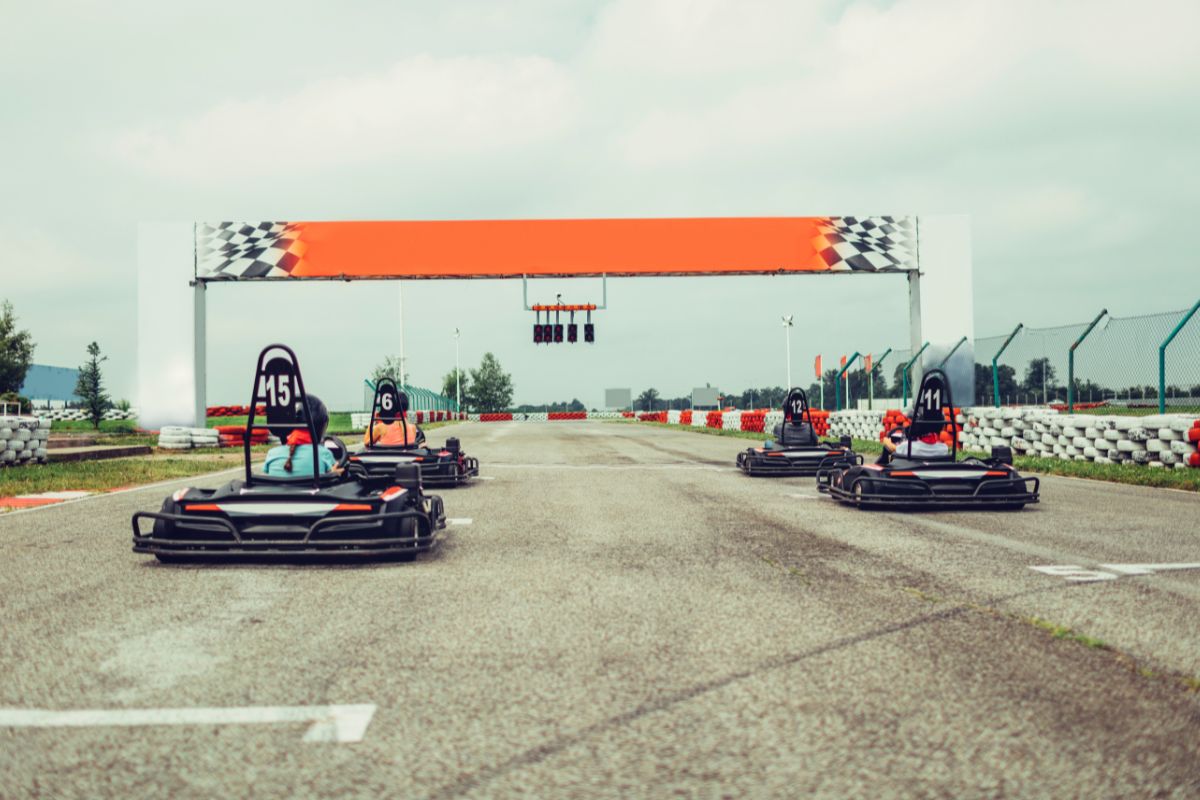 If you are looking for some other entertainment from the beach, then spend a couple of hours at Galveston Go Karts and Fun Center.
The go-karting track is somewhat more leisurely than others so this may be ideal for some pleasant driving while also racing competitively.
State: Texas
City: Galveston
Type: Outdoor
Track: Single track with several easy curves
Karts: Electric
Karts Top Speed:
Requirements: 56 inches to drive and 40 inches to be a passenger
Onsite Food & Beverages: No
Entertainment: No
Party & Group Booking: Yes
Merch Shop: No
Price Range: A single five-minute race is $12 and four races lasting 20 minutes costs $32.
Address: 9402 Seawall Blvd, Galveston, TX 77005
Opening Hours: The center is open seven days a week. From Monday through Friday from 12 to 9pm. On Saturday and Sunday, you can visit from 10am to 10pm
Track: This is one of the more leisurely tracks available with several easy curves well suited for those who want to take it easy and those who want to hit the accelerator.
Karts: There are two karts; a single go-kart, and a two-seater double go-kart.
Entertainment: The fun center also includes a virtual reality multiplayer arena which includes an immersive zombie shooting for up to four players and a virtual reality roller coaster.
There are also bumper cars and axe throwing.
Party or Group Bookings: Their Birthday Party Package is for 8 people and costs $99.
The package includes a go-kart ride, eight arcade game tokens, a single ice cream, and a can of soda for each birthday guest.
Booking: You can contact them via their website, over the phone, or in person.
Age & Height Restrictions: For the single-seater go-kart, the height requirement is at least 56 inches tall.
For the two-seater double go-kart, the driver must be at least 16 years old with the passenger being at least 40 inches tall.
At Mainland City Centre, you can find Texas Entertainment Xperience. For family fun in a space that is over two football fields long, you really are spoilt for choice.
The world-class go-karting is of prime importance, yet there is also an Altitude trampoline park, virtual reality games, arcade games, a ropes course, roller skating rink, mini bowling, and even billiards.
State: Texas
City: Texas City
Type: Indoor
Track: World-class which is built for speed and an adrenaline rush
Karts: Electric
Karts Top Speed:
Requirements: 48 inches for the cadet go-karts and 54 inches for the pro go-karts.
Onsite Food & Beverages: Yes
Entertainment: No
Party & Group Booking: Yes
Merch Shop: No
Price Range: $9.95 for a single cadet race and up to $39.95 unlimited time in a pro race.
Address: 10000 Emmett F Lowry Expy, Texas City, TX 77591
Opening Hours: The center is open seven days a week from 11am to 9pm each day.
Track: One of the most renowned indoor go-karting tracks which requires a briefing before heading to the starting line.
This includes a safety crash course, helmet fitting, and requires proper shoe attire.
Karts: Two types of karts including 12 cadet karts and 28 adult karts.
Entertainment: With the go-kart track is a skating rink, ropes course, trampolines, mini-golf, full arcade, and virtual reality.
Party or Group Bookings: The Two-Hour VIP Party includes three races as well as unlimited time in their Altitude trampoline park, playing virtual reality, and on the towering ropes course.
With a minimum of ten participants, each being over 54 inches tall to race, the package also provides two pizzas, and three drink pitchers with a party host presiding over it all.
Balloons, plates, napkins, and forks are provided with a birthday surprise for the birthday kid. The package promises to be unforgettable and costs $45.95 per person.
The Pro Race Package includes one race lasting from six to eight minutes long at $11.95 per person.
The Gold Package also includes a single race with unlimited jumping, roller skating, virtual reality, and ropes course at $29.95 per person.
Then there is the Platinum Plus Package with unlimited racing, ropes course, virtual racing, skating, and jumping at $54.95.
Booking: You can book over the phone, online for a party, or in person. You can also choose from several membership packages with a 6 or 12-month commitment.
Age & Height Restrictions: No age restrictions but a height requirement of 48 inches.
No two-seater go-karts are available but a child over 48 inches can go on the cadet track and a parent can race on the same track.
Frequently Asked Questions
What Should I Wear For Go-Karting?
Anyone going go-karting should be comfortable so you should know what to wear, especially for those tight turns. Wear clothes that you can easily sit and even stretch in.
You do not want to wear anything loose as this could get caught on some parts of the go-kart, though you should be wearing overalls anyway.
An outfit as simple as jeans and a t-shirt should be fine.
As far as footwear goes, comfortable shoes are also in order. You will not be allowed to wear heels or open-toed shoes so try to stick with trainers.
Before you arrive at the track area, you should be given overalls and gloves so ensure that your clothes are light enough so you do not feel too heavy.
Extra layers will also mean that you should get relatively warm as soon as you start racing.
Your hair is also important so if you have long hair then this should be tied all the way back so it doesn't fling out during the race.
Another racing precaution is a helmet and balaclava that you should be given before you begin to race.
How Do You Drive A Go-Kart?
Once you have been kitted out and feel comfortable in your go-kart, you should sit down and make sure that you can do so without worry.
Your positioning and posture are important for racing as they can affect the speed you can achieve and the handling of your go-kart.
Ensure that you feel good with your back when it is flat against the seat with your hands symmetrically placed on the wheel.
Just before you are ready to head off, tap the accelerator pedal and gauge how much pressure you need to apply before you start to move.
The other pedal you should get to know is the brake which is really important. Prior to picking up speed, try to slow down effectively and gradually.
If you do brake, then do so gradually as sharp braking, especially while turning, can mean slowing down and losing traction.
Smooth racing is the best way to go and braking while in a straight line can help you keep your pace.
Make sure that you make the most of the straights to gain as much speed as possible yet keep a safe distance from other drivers and the barriers.
If you enjoyed this article, you might enjoy our post on 'The 4 Best Places For Go Karting In Fort Worth'.