Fort Worth, Texas is a city not usually known for its Go Karting scene. However, did you know that some of Texas's best Go Karting centers can be found in the modern city.
Whether you're looking for a day packed with fun for the family, or want to practice your racing skills, there is a Go Karting track in Fort Worth that has everything you need.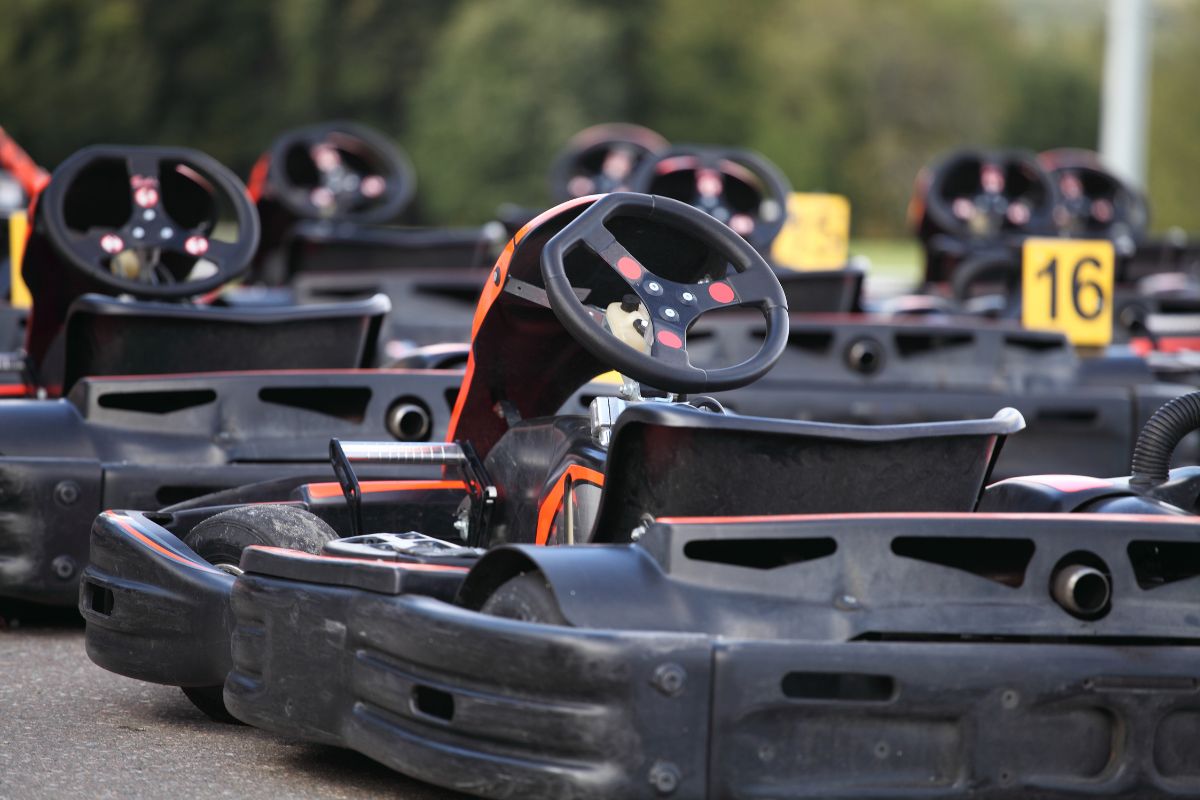 With both outdoor and indoor tracks available, the centers in Fort Worth all offer something different.
While some tracks offer arrive and drive racing and extra activities, others offer large group bookings and even Go Karting lessons.
With so much on offer, we thought it only right to help you find the best place for Go Karting.
Therefore, we've compiled a detailed guide looking at everything you need to know about the best places, looking at prices, the type of karts, tracks available, and much more.
If you want a fast, enjoyable racing experience, stick around!
Route 377 Go-Karts provides a super safe, incredibly fun environment for all levels of racer to enjoy Go Karting. Perfect for family days out and big birthday parties, a good time is guaranteed.
State: Texas
City: Haltom City
Type: Outdoor
Track: 1 Outdoor Track
Karts: 1 and 2-Seater Karts
Kart Top Speed: Kart Dependent
Requirements: 36" To Ride and 58" To Drive
Onsite Food & Beverages: Yes
Entertainment: Yes
Party & Group Booking: Yes
Merch Shop: No
Price Range: $8 – $120
Overview: Route 377 Go-Karts in Haltom City prides itself on providing anyone and everyone with a thrilling racing experience.
Featuring 1 outdoor track, an arcade, and a snack bar, spending the whole day with family and friends at the center is a must. Group bookings and parties are also available for those who seek even more entertainment.
Location:
5411 Denton Hwy, Haltom City, TX 76148, United States.
Opening Hours:
Sun – Fri: 2pm – 11pm
Sat: 12pm – 11pm
Tracks: Thanks to the hardworking track crew at Route 377 Go-Karts, racers are treated to an exhilarating outdoor track complete with difficult corners and tricky twists.
With just one long straight, racers have to take the opportunity to overtake other racers when the opportunity arises.
Karts: This Go Karting facility has double and single go-karts. The type of kart racers use depends on their height and age. Those under 36" tall have to ride in a double kart with an adult.
Those 58" tall and above are allowed to race on their own.
Each kart comes with safety belts, bumpers, and roll bars to ensure safety.
Speeds: This depends on the kart you use and the track rules.
Food & Beverages: Route 377 Go-Karts has a snack bar that sells a small variety of snacks and refreshments.
Booking: To race on this track you must pay $8 per person for a 5-minute race. Alternatively, you can choose from one of the many packages available. Packages include free races.
For example, the 5 race package comes with an extra race free. This costs $40. There's even a 1-hour unlimited pass for $40.
Party bookings and group bookings are also available.
Restrictions: 36" to ride and 58" to drive.
Entertainment: There is also an arcade on-site.
Contact:
You can reach Route 377 Go-Karts by calling 817-849-2234. All bookings can be made over the phone or at the track.
Lone Star Kartpark has one of the best Go Karting tracks in the city. With 16 turns and a range of arrive and drive packages, you're sure to enjoy the facility's fast track.
State: Texas
City: Fort Worth
Type: Outdoor
Track: 1 Outdoor Track
Karts: A Variety of CRG Karts
Kart Top Speed: Dependent On Current Regulations
Requirements: 58" for Adults and 48" for Juniors
Onsite Food & Beverages: No
Entertainment: No
Party & Group Booking: Yes
Merch Shop: No
Price Range: $25 – $195
Overview: This go-kart center located has a fast track that both beginners and experienced drivers can enjoy.
Offering family-friendly sessions and group bookings, this popular race track is perfect for karting lovers, family days out, and team building days.
Location:
3545 Lone Star Cir, Fort Worth, TX 76177, United States.
Opening Hours:
Mon – Tue: Closed
Wed – Fri: 4pm – 10pm
Sat: 11am – 10pm
Sun: 12pm – 8pm
Tracks: Over 3,100 feet in length and featuring 16 different turns, the Lone Star Kartpark race track is easily one of Fort Worth's most exciting tracks.
Making any racer feel like a professional, this track is also the longest track in the city.
Each race lasts 10 minutes. Getting to the front of the pack shouldn't be too difficult with plenty of overtaking spots and places to build speed being readily available.
Karts: Lone Star Kartpark has adult and Cadet Karts so that everyone has the chance to race. Even children as young as seven can drive if they are 48" tall. To drive an adult kart you must be 58" tall.
The racing league uses CRG Centurion karts.
Speeds: This depends on track rules and regulations at the time of racing.
Food & Beverages: This track doesn't have any food options but does allow visitors to bring their own.
Booking: The basic race package at Lone Star Kartpark costs $25. That will get you one, 10-minute race. Two races cost $45 and three costs $65. If you want to spend the whole day at the track, you could purchase a 10 race pass that costs $195.
Corporate packages are available too. These packages start at $75 per person, with the most expensive costing $95 per person.
Restrictions: 48" minimum height for children and 58" minimum height for adults.
Contact:
You can book your races or corporate packages through the Lone Star Kartpark website. If you need to speak to the company before making a purchase, call them on 940-240-2727.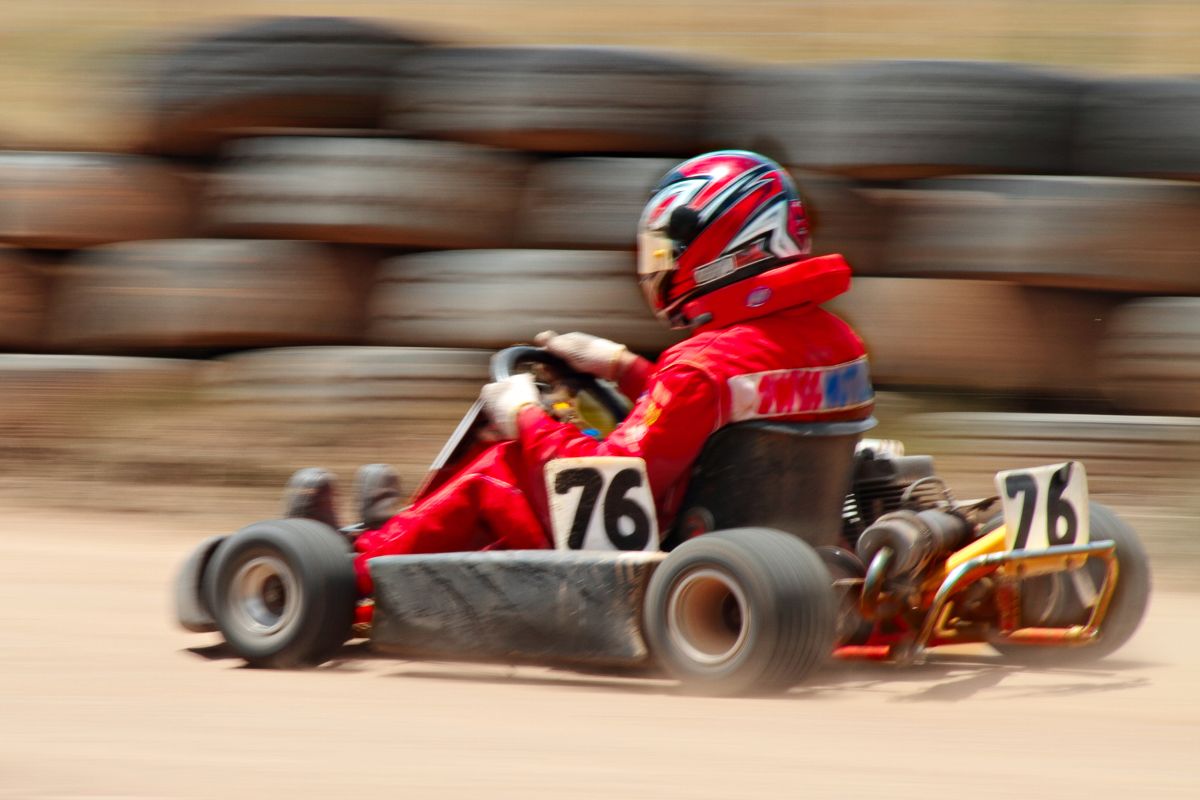 K1 Speed Arlington is just 8 miles outside of Fort Worth, providing drivers with a fast indoor track that is ¼-mile long. K1 Speed Arlington brings excitement, family fun, and lots of racing.
State: Texas
City: Arlington
Type: Indoor
Track: 1/4-mile Indoor Track
Karts: OTL Storm EFD
Kart Top Speed: Up To 45mph
Requirements: 48" height requirement
Onsite Food & Beverages: Yes
Entertainment: Yes
Party & Group Booking: Yes
Merch Shop: Yes
Price Range: $25.95 – $64.95
Overview: The perfect Go Karting place for beginner driving experiences and competitive racing, K1 Speed Arlington can be enjoyed by everyone.
With individual, family, party, and corporate bookings available, the opportunities are endless. Experienced racers can also take part in race events.
Location:
1801 E Lamar Blvd, Arlington, TX 76006, United States.
Opening Hours:
Mon – Thu: 12pm – 10pm
Fri: 12pm – 11pm
Sat: 11am – 12am
Sun: 11am – 9pm
Tracks: K1 Speed Arlington's indoor track is roughly ¼-mile long. The track features a variety of tricky twists and corners to test driver ability.
Relatively compact for a Go Karting track, races are quite challenging and very exciting. The track has safety barriers to keep you extra safe.
Karts: K1 Speed's go-karts are manufactured in Italy. These karts are the OTL Storm EFDs and are 100% electric.
This makes them much quicker, quieter, and environmentally friendly. Junior karts are restricted to 20mph whilst adult karts are restricted to 45mph.
Speeds: 20 – 45mph.
Food & Beverages: There is a Pit Cafe on-site selling food and beverages.
Booking: One race at K1 Speed costs $25.95, 2 cost $46.95, and three costs $59.95.
There are also different group packages available on the K1 Speed website. These include bachelor(ette), corporate, and party bookings.
Restrictions: Minimum height of 48" tall.
Entertainment: The facility also has an arcade and pool tables.
Merchandise: K1 Speed Arlington has a merch shop where you can buy equipment, accessories, and racing apparel.
Contact:
K1 Speed can be contacted through their website or over the phone at 1-866-340-8592. You'll also find a booking inquiry form on the website.
Rockwood Go-Karts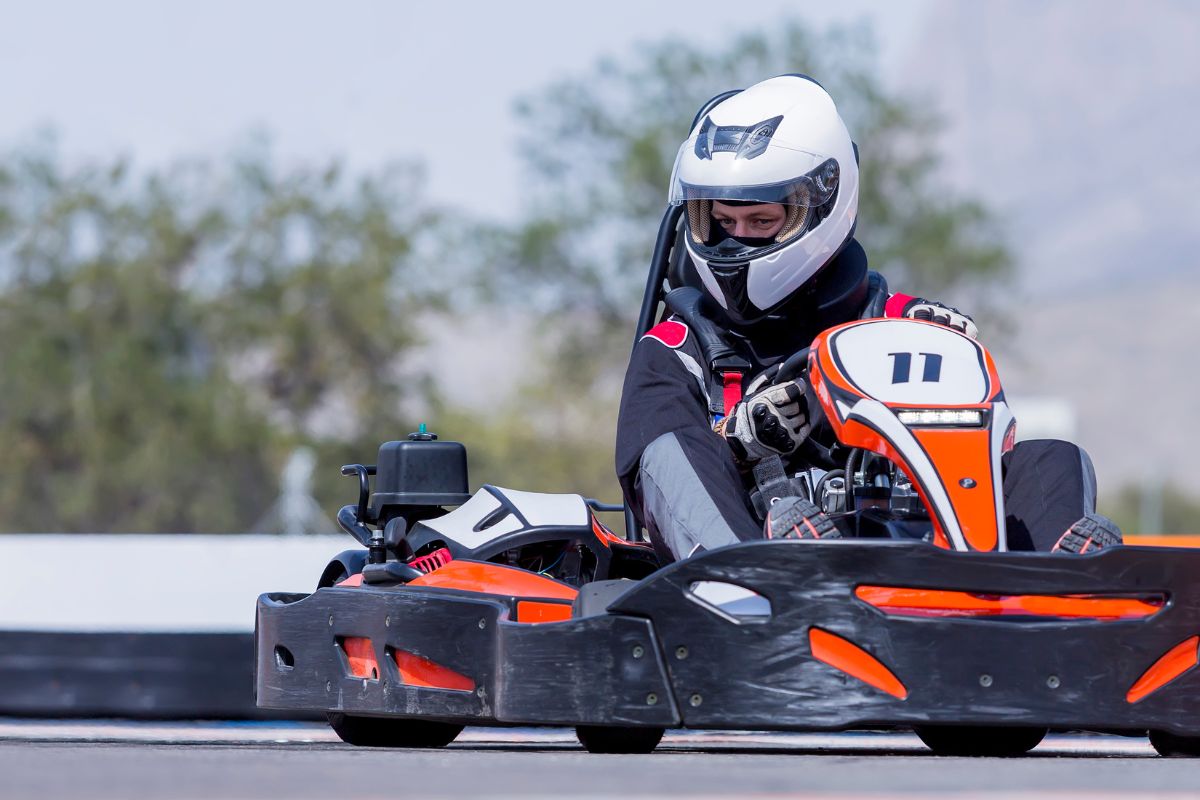 The oldest Go Karting location in Fort Worth, Rockwood Go-Karts is much-loved within the local community.
With a track better suited to beginners, a lot of locals come here for their first experience, before playing some mini-golf too.
State: Texas
City: Fort Worth
Type: Outdoor
Track: Circular Track
Karts: Single and Double-Seater Karts Available
Kart Top Speed: Unknown, But Claim To Be The Fastest In Fort Worth
Requirements: Must Be At Least 4'8" Tall
Onsite Food & Beverages: No
Entertainment: Yes
Party & Group Booking: Yes
Merch Shop: No
Price Range: $6 – $7 Per Race
Overview: Open since 1962, Rockwood Go-Karts has always been a big hit with Fort Worth locals.
Despite only having a small track, many people love the facility for its laid-back approach, family-friendly atmosphere, and great conditions for beginners who want to get in the kart for the first time.
Aside from having a fast track, Rockwood Go-Karts also has a mini-golf course. This ensures the whole family has something to do if they don't like racing.
Location:
700 N University Dr, Fort Worth, TX 76114, United States.
Opening Hours:
Sun – Thu: 12pm – 10pm
Fri: 12pm – 11pm
Sat: 9am – 11pm
Tracks: Those looking for an easy track that they can learn on should definitely head to Rockwood Go-Karts.
The concrete track at the facility is almost circular and has no tight corners, twists, or turns. The track is also quite small, taking a matter of seconds to get around.
Despite being a small circuit with no corners or turns, Rockwood Go-Karts' track is incredibly fast. In fact, Rockwood has claimed that it is the fastest track in Fort Worth. Most of their visitors agree.
This track is also perfect for overtaking as it is nice and wide. This will give you a chance to finish first.
Karts: Rockwood also believes it has the fastest Go-Karts the city has to offer. Again, most of their drivers will vouch for that. Single karts drivers must be over 4'8" and 10 years old.
Anyone under that age and over 3'4" will have to sit in a two-seater kart with an adult. Young racers must also be 5 years old and above. Every kart is equipped with reliable safety measures to guarantee driver safety at all times.
Speeds: The speed of Rockwood's go-karts is currently unknown.
Food & Beverages: Rockwood Go-Karts doesn't have any food or beverage options. However, they do have a picnic area where you can eat and drink your own food and beverages.
Booking: Rockwood's Go-Karting costs $7 per race. Each race lasts 4 minutes. On Tuesdays, the facility runs an offer in which the cost of each race is reduced by $1.
Group and party rates are $6 per person, per race. For group bookings and parties, you must book at least 20 rides. Therefore, a party will cost you at least $120
Restrictions: Minimum height of 4'8".
Entertainment: This facility also has a mini-golf course.
Contact:
You can easily contact Rockwood Go-Karts via their website or by calling 817-626-1913
Final Thoughts
There you have it, Fort Worth's best places for Go Karting.
While it may not be the most popular thing to do in the city, there are still plenty of fantastic options when it comes to trying Go Karting for the first time or getting your practice laps in ready for your next competition.
In this article, we have shown 4 of the best places to go.
We've shown you exactly what to expect at each facility, how much each experience costs, what packages are available, and just how fast you'll get to race.
While they all differ slightly in terms of the packages, tracks, karts, and other experiences they offer, all of these Go Karting facilities are guaranteed to give you, your friends, and your family an exciting day out.
All you need to do now is pick the facility you want to try out and get your races booked in.
If you enjoyed this article, you might enjoy our post on 'The Three Best Places For Go Karting In Galveston'.