Go Karting is an exciting experience that gives people of all ages and skill levels the opportunity to feel what it's like to race. However, Go Karting isn't hugely popular everywhere we go.
For example, finding the best place for Go Karting in and around Fort Myers is surprisingly difficult.
In fact, Fort Myers only has two Go Karting facilities in the whole city.
Luckily for us, those two facilities are wonderful places to go Go Karting.
Today, we're going to show you the two best places in Fort Myers for Go Karting, explaining what each facility offers so you know exactly what to expect.
Due to Fort Myers's lack of Go-Karting facilities, we'll also show you two of the best places for Go Karting outside of the city.
If you're looking for an awesome racing experience in and around Fort Myers, be sure to stick around!
FastTrax is an entertainment hub in the heart of Fort Myers that offers a wide range of exciting sports, games, and other activities.
One of those is Go Karting. The winding track at FastTrax offers drivers of all skill levels the chance to race and enjoy a competitive, yet fun environment.
State: Florida
City: Fort Myers
Type: Outdoor
Track: 1 Rookie & 1 Adult Track
Karts: OTL Storm EFD
Kart Top Speed: Up To 45mph (FastTrack Limit Speed)
Requirements: At Least 48" Tall
Onsite Food & Beverages: Yes
Entertainment: Yes
Party & Group Booking: Yes
Merch Shop: No
Price Range: $11.99 – $19.99
Overview: FastTrax is the perfect place for families, friends, and individuals to spend the day if they seek speed, entertainment, and lots of fun.
Aside from their winding Go Karting tracks, which are open 7 days a week, this facility has bowling, a drop tower, an arcade, and roller coasters.
Primarily offering arrive and drive Go Karting, this race center also runs regular competitive races for more experienced racers.
Location:
17455 Summerlin Rd, Fort Myers, FL 33908, United States.
Opening Hours:
Mon – Thu: 12pm – 10pm
Fri: 12pm – 12am
Sat: 10pm – 12am
Sun: 10pm – 10am
Tracks: FastTrax has two different race tracks on offer. One track is designed for adults and the other for children. This gives both adults and children the opportunity to race on a track that better suits their experience levels.
Every Wednesday and Thursday, the FastTrax team combines the two tracks to build one mega track.
This doubles the size of the track, creating a bigger challenge for individuals with a higher skill level. This mega track features plenty of twists and turns and opportunities to overtake opponents.
Karts: This facility has three different go-karts. Adults who are 56" or taller ride the OTL Storm EFD karts, whilst juniors over 4 feet tall ride in the tracks OTL junior go-karts.
There are also two-seater go-karts available for those who wish to ride with their parents.
All karts are equipped with safety measures and 100% electrically powered, making them more environmentally friendly.
Speeds: This depends on the track rules and the kart you use.
Food & Beverages: FastTrax has its very own bar and grill. This bar and grill is called Sidetracked and sells a wide range of food and drink including pizzas and tacos.
Booking: A regular race at FastTrax costs $11.99 for juniors, $14.99 for regular racing, and $19.99 for pro racing. The facility's pit stop parties cost $399 for 10 guests.
This includes 1 go-kart race and 1 hour of midway rides.
Restrictions: Must be at least 48" tall.
Entertainment: FastTrax also has a bowling alley, drop tower, roller coasters, and an arcade.
Contact:
You can contact FastTrax via their website or by giving them a call on (239)-481-9666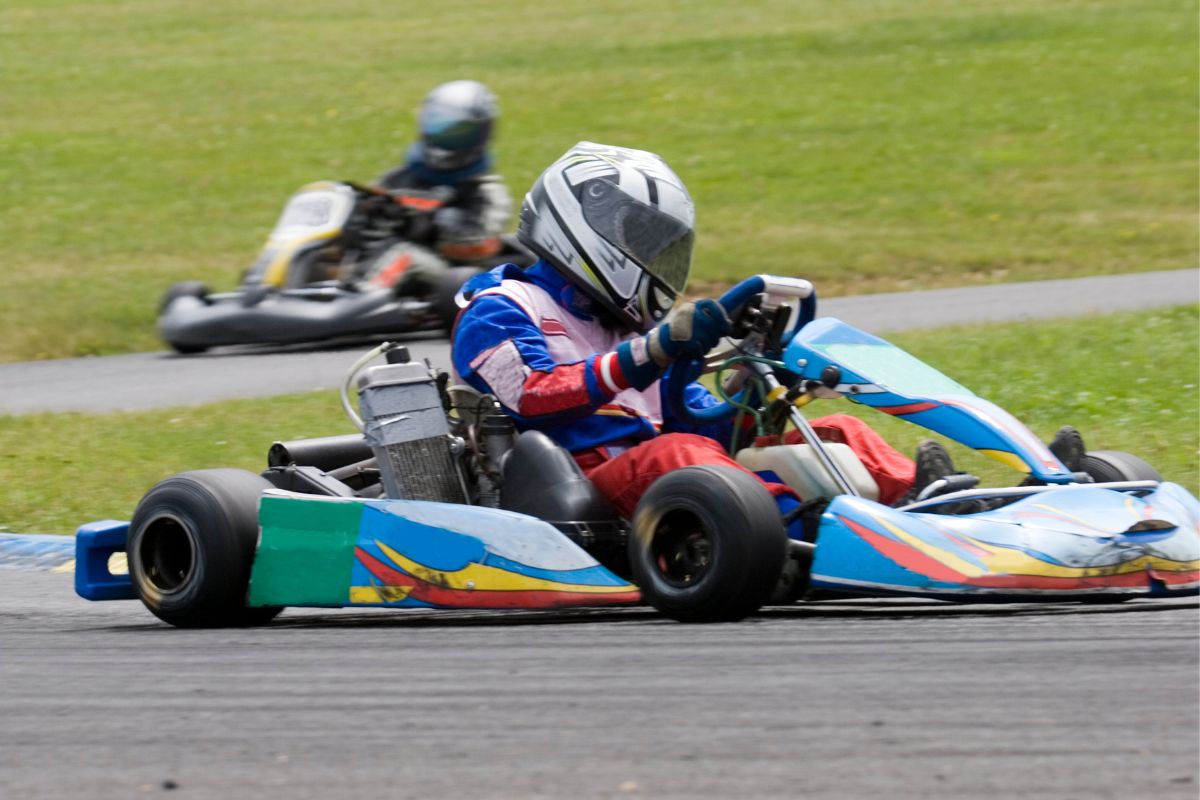 Gator Mike's is the perfect place to take the family for a fun day out. Packed with exciting attractions that both juniors and adults can enjoy, the facility also has two awesome Go Karting tracks.
State: Florida
City: Cape Coral
Type: Outdoor
Track: Two Tracks (Figure 8 Track & Grand National Track)
Karts: 1-Seater and 2-Seater go-karts
Kart Top Speed: Dependent On Track Rules
Requirements: At Least 58" Tall
Onsite Food & Beverages: Yes
Entertainment: Yes
Party & Group Booking: Yes
Merch Shop: No
Price Range: $10 – $14
Overview: Gator Mike's Family Fun Park is a theme park packed with an incredibly vast array of activities to try including arcade games, baseball cages, ziplines, and mini-golf.
One of the facility's biggest draws is its two fast-paced, high-quality race tracks.
With parties and group bookings available, this could be the best place to spend your birthday this year.
Location:
35 NE Pine Island Rd, Cape Coral, Fl 33909, United States
Opening Hours:
Mon – Thu: 11am – 8pm
Fri – Sat: 11am – 10pm
Sun: 11am – 8pm
Tracks: Gator Mike's Family Fun Park has two different race tracks. One is called the Grand National Track and suits beginners. The other is called the Figure 8 Track and better suits those looking for a more intense, fast experience.
The Grand National Track is slower and easier to drive around, whilst the Figure 8 Track offers more of a challenge, featuring tight corners and tricky twists.
Karts: Gator Mike's has two different types of go-kart available. One type of kart is single seat, perfect for solo racers and the other is a 2-seater, which is designed for juniors riding with their parents.
To guarantee exciting, but safe racing, every go-kart is equipped with padded seats, bumpers, safety belts, and a powerful engine. To drive on the Figure 8 Track, drivers must be at 58" or taller and have a driver's license.
Speeds: Based on track rules and regulations at time of racing.
Food & Beverages: You can sit in and eat a full meal at Gator Mike's Latitude 78 restaurant or you can grab a quick snack and beverage from the snack bar.
Booking: Racing prices at Gator Mike's Family Fun Park are pretty simple. A single-seater race costs $10 per race. A 2-seater go-kart costs $14 per race ($10 for the driver and $4 for the passenger).
Race slots can be booked on the facilities website. Parties, special events, and group outings can also be booked on the website. These bookings cost $25 to $35 per person.
Restrictions: Must be at least 58" tall.
Entertainment: This facility also has paintballing, arcade games, baseball cages, mini-golf, and ziplines.
Contact:
Book your experience on the Gator Mike's Family Fun Park Website or give them a call at 239-574-4386.
Apart from FastTrax and Gator Mike's, 4-17 Southern Speedway is the closest place you'll find to Fort Myers if you want to race go-karts.
Offering all things motorsport, the track here is better suited to more experienced, professional racers.
State: Florida
City: Punta Gorda
Type: Outdoor
Track: 1 Oval Track
Karts: Use Your Own
Kart Top Speed: N/A
Requirements: Dependent On Class
Onsite Food & Beverages: No
Entertainment: Yes
Party & Group Booking: No
Merch Shop: Yes
Price Range: $13 – $20
Overview: 4-17 Southern Speedway is a facility that provides motorsports enthusiasts with everything they need to have a thrilling experience.
Offering go-kart owners the chance to compete in competition and observe a wide variety of races, this facility is the ideal place to develop professional skills and learn more.
Location:
8655 Piper Rd, Punta Gorda, FL 33982, United States.
Opening Hours:
4-17 Southern Speedway opening times depend heavily on the track's event calendar. Check the facilities website when planning your visit.
Tracks: 4-17 Southern Speedway has one oval-shaped track featuring an asphalt surface.
Completely flat and ⅜-mile long, the track has floodlights so drivers have the chance to race at night. The track also has a rubber tire safety barrier to give racers an extra level of protection.
Karts: This Go Karting facility doesn't have any arrive and drive packages available.
Instead, drivers have to bring their own go-kart to the center and join a championship or league before they can race.
Speeds: Class dependent.
Food & Beverages: 4-17 Southern Speedway doesn't have any food or beverage facilities. However, they are fine with people bringing their own snacks and refreshments.
Booking: You can register your interest in racing at this facility on the tracks website. Prices range from $13 to $20 per race.
Unfortunately, this isn't the place to come with your friends, family, or coworkers as the facility doesn't have any group or party bookings available.
Restrictions: This is also class dependent.
Entertainment: Visitors are more than welcome to sit back and enjoy one of the many speedway events that take place at the 4-17 Southern Speedway.
Merchandise: This Go Karting facility does sell its own racing apparel.
Contact:
You can book your Go Karting experience or register for competition on the facilities website. To talk to the company directly, call 941-205-8925.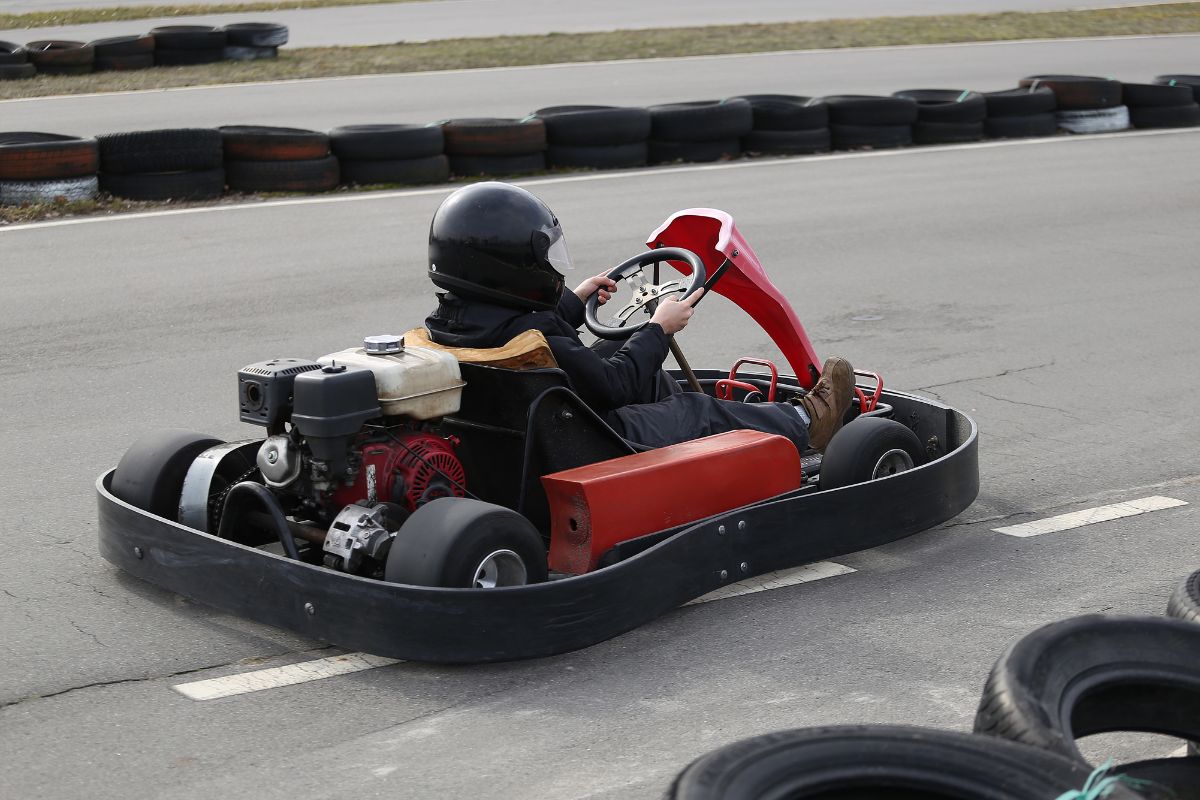 If you have time and are looking for one of the best Go Karting experiences for the whole family, your friends, or your colleagues, take the 1 hour 25 minute drive to Andersen RacePark.
State: Florida
City: Palmetto
Type: Outdoor
Track: A 0.6 Mile Long Race Track
Karts: Birel ART N-35
Kart Top Speed: 50mph
Requirements: Minors Must Sign A Waiver First
Onsite Food & Beverages: Yes
Entertainment: Yes
Party & Group Booking: Yes
Merch Shop: Yes
Price Range: $22.50 Per Race
Overview: It may seem like an odd choice as it is 90 miles away from Fort Myers, but if you want the best Go Karting experience near Fort Myers this is where you need to go.
Andersen RacePark has something to offer for everyone.
Whether you're a beginner wanting to learn the ropes and race for the first time, or a seasoned professional looking to race in competition, this track has you covered.
Aside from providing exhilarating Go Karting experiences, family friendly days out, team building activities, and corporate bookings, this facility also runs the best Go Karting training lessons.
Location:
10101 US-41 N, Palmetto, FL 34221, United States.
Opening Hours:
Mon: Closed
Tue – Wed: 10am – 5pm
Thu – Sat: 10am – 8pm
Sun: 12pm – 5pm
Tracks: Andersen RacePark has an asphalt track 0.6-miles in length.
This track is spread across 18 acres of land and features an array of different twists and turns, 13 to be exact.
A rather fast-paced track, the course can also be reconfigured to give everyone something new to try.
Karts: This Go Karting facility provides racers with Birel Art go-karts.
These fast karts are made to the highest standard to ensure entertaining driving and maximum safety. Built with an electric engine, these karts are also lovely and quiet.
Speeds: Maximum speed of 50mph.
Food & Beverages: There is a small cafe on-site selling a range of snacks and refreshments.
Booking: Each race at Andersen RacePark will set you back $22.50. This will give you 10 minutes of driving. This doesn't include the $5 fee you will also have to pay for insurance.
These races, as well as group and party bookings can be made over the phone, online, or via email.
Restrictions: Contact the track in advance to find out about any new restrictions. Minors must sign a waiver.
Entertainment: Those with party bookings have access to the facilities party rooms.
Merchandise: Andersen RacePark sells Go Karting accessories and clothing.
Contact:
Call Andersen RacePark on (941) 723-3900. You can book all of your racing slots and group bookings online or by emailing the company at [email protected].
Final Thoughts
You should now know all there is to know about the Fort Myers Go Karting scene. Unfortunately, there are only two Go Karting centers in Fort Myers, leaving us with few options.
Having said that, the two Go Karting facilities on offer are pretty great. They both have a number of packages to offer, meeting the needs of both beginner and experienced racers.
For an experience purely dedicated to Go Karting, you will have to leave Fort Myers. This may seem annoying, but the experiences available are much better for Go Karting enthusiasts.
Now you have all of this information at your disposal, why don't you start planning a trip to one the places we have discussed. We're certain you'll have a great time no matter which center you visit.
If you enjoyed this article, you might enjoy our post on 'Where Is The Best Place For Go Karting In Miami?'.