Are you looking for some fun in the sun? Cape Coral has plenty of options for those who want to enjoy the outdoors.
There are numerous parks, beaches, and golf courses where you can spend time with family or friends.
Cape Coral is located in Southwest Florida along the Gulf Coast. The city offers a wide variety of activities from fishing, boating, swimming, surfing, and much more.
If you love to play sports, then you'll also find plenty of opportunities to get involved.
There are many great places to go-karting in Cape Coral.
Whether you're looking for a place to race, practice, or simply enjoy the thrill of speed, these spots will give you exactly what you're looking for.
State: Florida
City: Cape Coral
Type: Outdoor
Track: 1
Karts: Electric Powered
Karts Top Speed: 45mph
Requirements: Riders must be 4″10 or more to drive on the track.
On-site Food And Beverages: Yes
Entertainment: Yes
Party And Group Booking: Yes
Merch Shop: N/A
Price Range: Single is $10. Passenger is $4
Company Overview: Gator Mike's Family Fun Center has an exciting Go Kart Racing Track in Cape Coral. You get to enjoy the thrill of Go Karting in their state-of-the-art facility.
They offer Go Kart rentals for all ages and skill levels.
Come out and join them for some fun and excitement! Gator Mike's Kart Racing is located just minutes from the beaches of Southwest Florida.
Race Track Overview: The track has many great turns for you to enjoy with the ease of a track that requires less maneuvering for more fun and enjoyable experience.
You also get a full five minutes on their Grand National Track!
Types of Go-Karts: The karts are designed for solo riding and duo riding with a friend if you wish to do so! Their Go-Karts are designed to fit the needs of families looking for a fun activity for all ages.
Whether you're looking for an adrenaline rush, a relaxing family outing, or something in between, they've got what you need.
They offer both single-rider and two-person go-karts. They also provide helmets for children under 6 years old.
Food And Beverages: They also offer a full-service bar and restaurant. Go check them out!
They have a unique snack bar and some delicious menu meals for you to enjoy, including the best burgers you'll ever taste!
Entertainment: Gator Mike's Family Fun Center has many exciting attractions including go-karts, bumper cars, mini-golf, laser tag, arcade games, pool tables, air hockey, and video games.
These activities are state of the art and so much fun for all the family all year round, so get involved today!
Party Or Group Bookings: At Gator Mike's Family Fun Park, you can book the best birthday parties for a minimum of 10 people and above!
They only require that you don't bring any outside food or beverages inside aside from a birthday cake if you wish, which they will store for you!
Age And Height Restrictions: Waivers must be used for all activities. And the minimum height required is 58″ or 4″10 for all drivers to take part.
These restrictions are in place for not only your own protection but the park too, so bear that in mind if you don't like their rules and restrictions.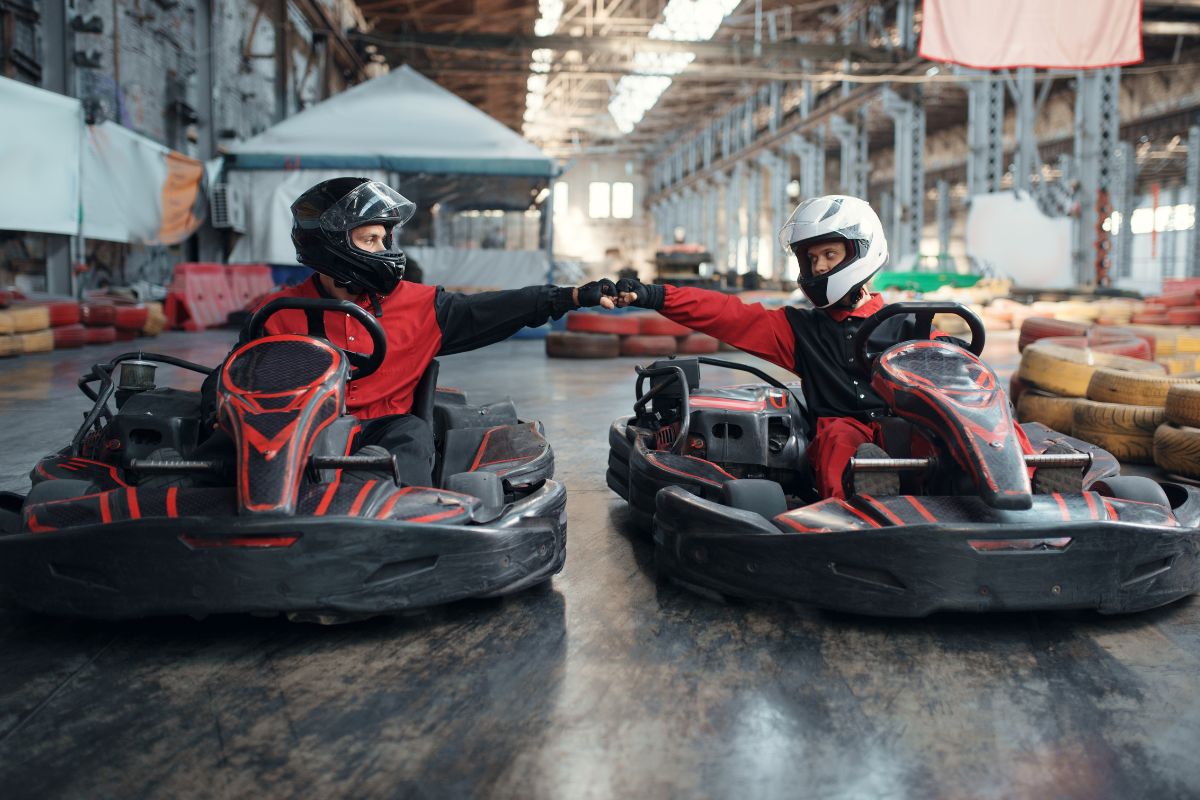 State: Florida
City: Cape Coral
Type: Outdoor
Track: 1
Karts: Electric Powered
Karts Top Speed: 45mph
Requirements: Riders 21 and above must pass a breathalyzer test.
On-site Food And Beverages: Yes
Entertainment: Yes
Party And Group Booking: Yes
Merch Shop: No
Price Range: $8 per ride for the spin zone, $10 per ride for Naskart, and $22 per person in the bumper zone.
Company Overview: Livingston's is Sarasota's premier entertainment destination.
With over 50, 000 square feet of state-of-art fun, Livingston's is the ultimate place to enjoy your favorite game, eat, drink, and socialize.
They've spent the last 30 years refining fun… so there's always something going on at Livingston's.
Whether you're looking for bumper cars, billiards, arcade games, or laser tag, they've got it all.
Race Track Overview: This is an exciting opportunity for you to get out, meet new people, and have fun!
They will provide all the equipment and safety gear you need to enjoy a safe and unforgettable experience.
Their event space is designed to bring everyone together, whether you're racing against friends or family or just getting together with them in a social setting.
Come join them at the track and have a great time!
Types of Go-Karts: All races are 5 minutes long in their fantastic go-karts, which have been designed to be top-of-the-range quality.
Their karts are designed to all hit the highest speeds on record for you to really achieve those leader board-worthy race results!
Food And Beverages: They even offer catering if you need them to bring the food. If you're looking for a unique venue, they've got you covered!
They'll help you plan the perfect location and decorate the space just like you imagined.
Come hang out with them at their huge, full beer/wine/cocktail bar and watch their HDTVs while listening to their awesome music selection.
At Livingston's Pizza, you can enjoy great homemade pizzas, chicken tenders, hot dogs, mini corn dogs, and burgers. You can even get your own personal pizza pie!
Their menu offers all kinds of delicious options, including salads, appetizers, desserts, and drinks.
They offer free Wi-Fi and a full bar for their guests. If you need anything else, feel free to ask them at any time.
Entertainment: They offer a large selection of fun activities for all ages! We also offer a full menu of delicious snacks and meals.
Their arcade features many games, including classic video game systems like Nintendo Wii, Xbox 360, PlayStation 3, and Sega Dreamcast.
Arcade games are fun and exciting ways to spend time together.
They offer a large selection of individual and multiplayer games and attractions. Their staff will help you choose the right game for your party.
Party Or Group Bookings: They also provide booking services for your next party, special occasion, or event.
Their team will help you plan an unforgettable experience.
They can handle everything from planning the menu, to making sure everyone has a great time.
They can even provide decorations and favors for your guests. They'll even help you get the best price on your rental equipment and supplies.
No matter what type of party you're throwing, they can help you make it memorable and stress-free.
They offer a full range of services including catering, event planning, rentals, and staffing.
Their professional staff will help you plan your wedding reception, rehearsal dinner, rehearsal brunch, rehearsal luncheon, wedding ceremony, wedding reception, wedding party photos, wedding party videos, and wedding party videography.
Age And Height Restrictions: Riders must be at least 42″ to ride and if you are over 21 you must take a breathalyzer test on entry as a requirement by the park.
State: Florida
City: Cape Coral
Type: Outdoor
Track: 2
Karts: Gas Powered
Karts Top Speed: 45mph
Requirements: Riders must be 56″ or above to ride the adult go-karts.
On-site Food And Beverages: Yes
Entertainment: Yes
Party And Group Booking: Yes
Merch Shop: No
Price Range: The $25 pass will get you on multiple rides, including go-karting.
Company Overview: Kidstar Park is a quiet oasis located just south of downtown Cape Coral. It features a playground, picnic tables, and an outdoor stage.
There are also many parking spaces available for visitors. If you're looking for a place to relax after a long day, head to Kidstar Park.
Bring your family to enjoy a fun afternoon at the park! Kidstar Is An Indoor Playground With Fun Activities For Kids Of All Ages.
Kidstar is an indoor/outdoor entertainment center located at 5200 N. Tamiami Trail in Cape Coral, Florida.
It features a large play area, a restaurant, and an arcade. KidStar is a fun place for kids to play.
There is always something going on there. You will see games like ping pong, pool, foosball, air hockey, etc… There is also a stage where they have music playing all day long. Kids love it!
Race Track Overview: The track features so many turns and bends to enjoy and challenge the inner race car driver within you!
We just love the layout design of the track, and we know that you will too when you get the chance to try out this park's go-karting experience! Don't miss out!
Types of Go-Karts: There are specially designed karts for both the adults and the children, so you know for sure that whoever you are in the family, you can enjoy and make the best out of the go-karting experience at Cape Coral's Kidstar park!
Food And Beverages: The vintage arcade games and fermented drinks in the café are a big draw. Some come with their children and like to drink a beer while playing the games.
Others come to play video games themselves and enjoy an alcoholic beverage.
The café serves burgers and pizza, chicken tenders and grilled cheese sandwiches, hot dogs, ice cream, and desserts.
Entertainment: The play area includes a tube slide, two ball pits, and a climbing wall.
There is also a 4-story-high castle, a pirate ship, a fishing pond, and a water slide. Kids can enjoy all of these activities while parents relax in the café or watch them play.
There are vintage arcade games from the 1960s, 1970s, and 1980s, plus other attractions.
The kids' area includes mini-golf, laser tag, bounce houses, and a pirate ship ride. Adults also come here without their kids or grandkids.
Kidstar has go-karting, and 2 new laser tag systems, Hero Blast, and iCombat.
They also have a liquid water show, black light redemption arcade, and a sharpshooter arcade, plus a partner location in the sun flea market that is called Kidstar.
They host parties at both locations and offer packages that combine them. Hero Blast Laser Tag is suitable for everyone.
It is a system that allows you to wear an electronic glove that has two buttons on the side, one fire, and one that controls your special skill.
iCombat is a game that uses CO2 M-4 rifles, so when you shoot the lasers the guns actually have recoil, making it easier to aim.
Party Or Group Bookings: Kidstar is great for birthdays because it is big enough to accommodate children ages 2–12.
It is also open year-round, unlike many other places that close down when the weather gets bad.
Kidstar Park has become a popular venue for birthday parties for kids.
Age And Height Restrictions: The park opens Friday at 4 pm and closes at 11 pm, Saturday from 12 pm to 11 pm, and Sunday from 12 pm to 7 pm. Masks aren't required, but they're suggested when you go out.
Kids should wear them if there's a chance of getting sick.
They do have some restrictions for height for the rider's protection and the protection of the park too, so just be aware of this beforehand. You must be 56″ or above.
Final Thoughts
If you want to take your family to a place that offers go-karting, then Cape Coral is the place to do it. Its go-karting places are clean, safe, and lots of fun.
If you want to bring your kids here, they'll have a blast.
They have so many great options if you live in the Cape Coral area.
We hope that this article has provided you with the information you need about all the best places for go-karting in the city of Cape Coral!
There are so many great amusement parks that include go-karting in their activities, so don't miss out on the chance to get involved today!
If you enjoyed this article, you might enjoy our post on 'The 5 Best Places For Go-Karting In Thousand Oaks'.